About Davis Spine & Orthopaedics
Read below to learn more about our skilled and knowledgeable surgeons and their team.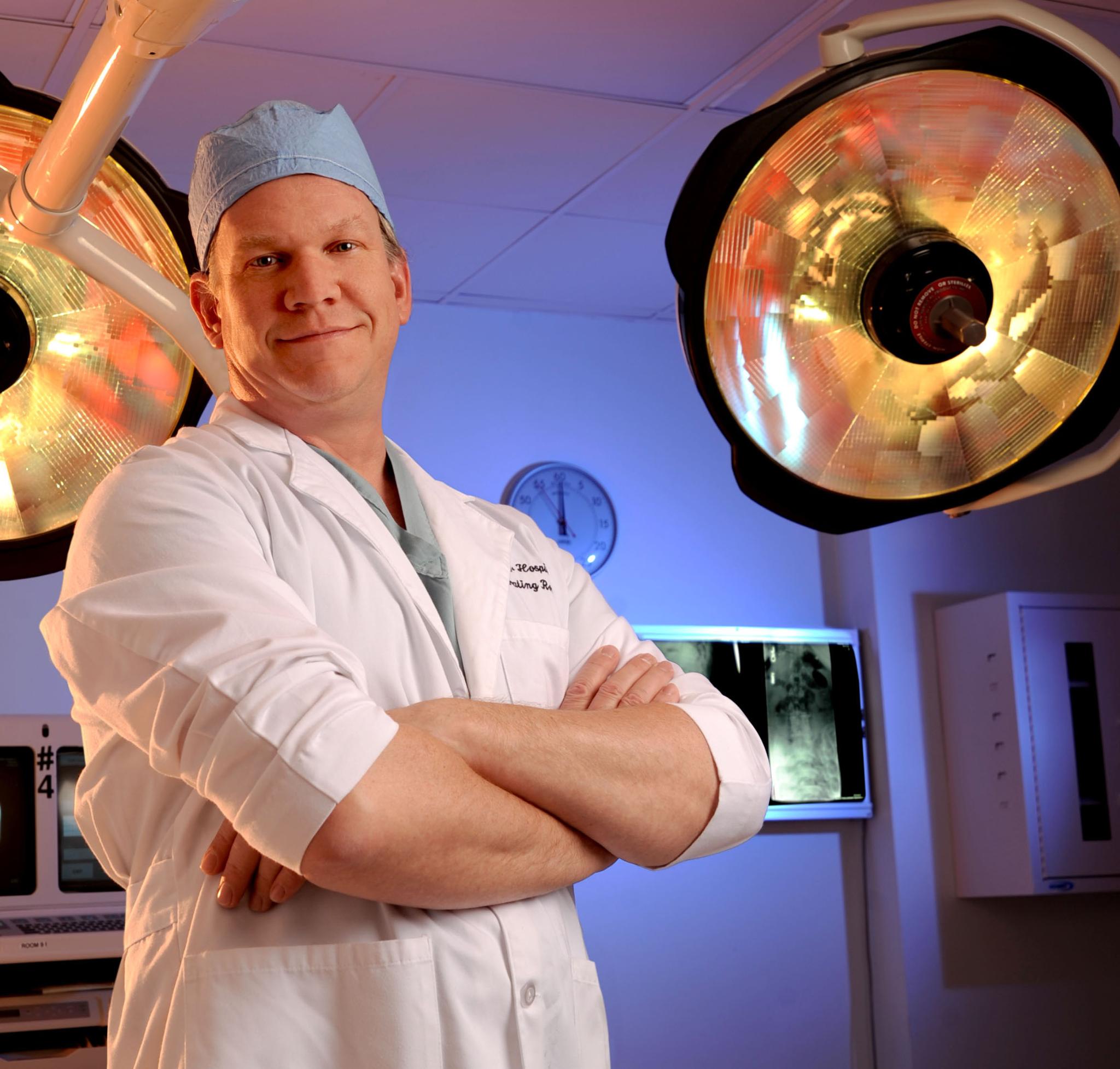 Charles W. Davis II, M.D., FAAOS ⁠— Orthopaedic Surgeon
Charles W. Davis II, MD, FAAOS, is one of the area's only board-certified, Fellowship-trained spine surgeons. At Davis Spine & Orthopaedics, we specialize in the treatment of cervical, thoracic, and lumbar spine. Dr. Davis is well-versed in all surgical techniques, including minimally invasive surgeries as well as revisions and scoliosis. In addition, we also evaluate and treat general orthopedic conditions.
Before beginning his career in medicine, Dr. Davis worked as a commercial diver performing tasks such as underwater welding, bridge, and tunnel inspections, as well as other various underwater tasks. While in medical school and residency, Dr. Davis served as second-in-command for the Howard County underwater search and rescue team and rapid water team. There, he recovered evidence for police and the FBI, as well as served the community with body and evidence recovery. Dr. Davis then worked in a factory as a millwright welder, where he was instrumental in repairing and maintaining machinery as well as pipeline work. Dr. Davis earned his doctoral degree at the University of Maryland School of Medicine. He went on to complete a residency in Orthopaedic Medicine at the University of Maryland, Department of Orthopaedic Surgery: Shock Trauma. He also gained experience in pediatric scoliosis and spine while on rotation at Johns Hopkins. He then furthered his medical knowledge by completing a Scoliosis and Spine Center Fellowship at St. Joseph in Towson, MD, under the direction of Dr. Paul McAfee. Dr. Davis has more than a decade of successful experience with complex spinal reconstruction, minimally invasive spine, and general orthopedics.
Licenses & Memberships
Florida Medical License

Maryland Medical License
Virginia Medical License
Fellow American Academy of Orthopaedic Surgeons
The American Board of Orthopaedic Surgery
Complex Spine Deformity Group
North American Spine Society
American Society of Interventional Pain Physicians
Scoliosis Research Study

Fellowship
Scoliosis and Spine Center Fellowship



Paul McAfee, M.D., Director
Spine Fellow

Residency
University of Maryland, Dept. of Orthopaedic Surgery
Shock Trauma, Dept. of Orthopaedic Surgery

Graduate
University of Maryland, School of Medicine
Doctor of Medicine

Undergraduate
University of Maryland
Bachelor of Science, Chemistry
Summa Cum Laude

Hospital/Academic Affiliations
AdventHealth Surgery Center Wellswood
Tampa Minimally Invasive Spine and Surgery Center
Mikaela Quest, PA-C ⁠—

Physician Assistant
Mikaela grew up in the Palm Beach, Florida area with her two younger sisters and beloved golden retriever, Lacey. Growing up she loved being active and playing indoor and beach volleyball.
Mikaela earned her undergraduate degree from Florida State University where she quickly became interested in becoming a Physician Assistant. She then went on to earn her Masters in Physician Assistant studies from the University of South Florida in 2022. Her dream job has always been to work in Orthopaedics making her right at home here in the Tampa area.
Mikaela spends much of her free time lifting weights and doing yoga. She loves watching true crime documentaries and listening to podcasts. On the weekends you can also find her taking her dog to the beach, hanging out with friends, traveling, or cheering on FSU's football team. Go Noles!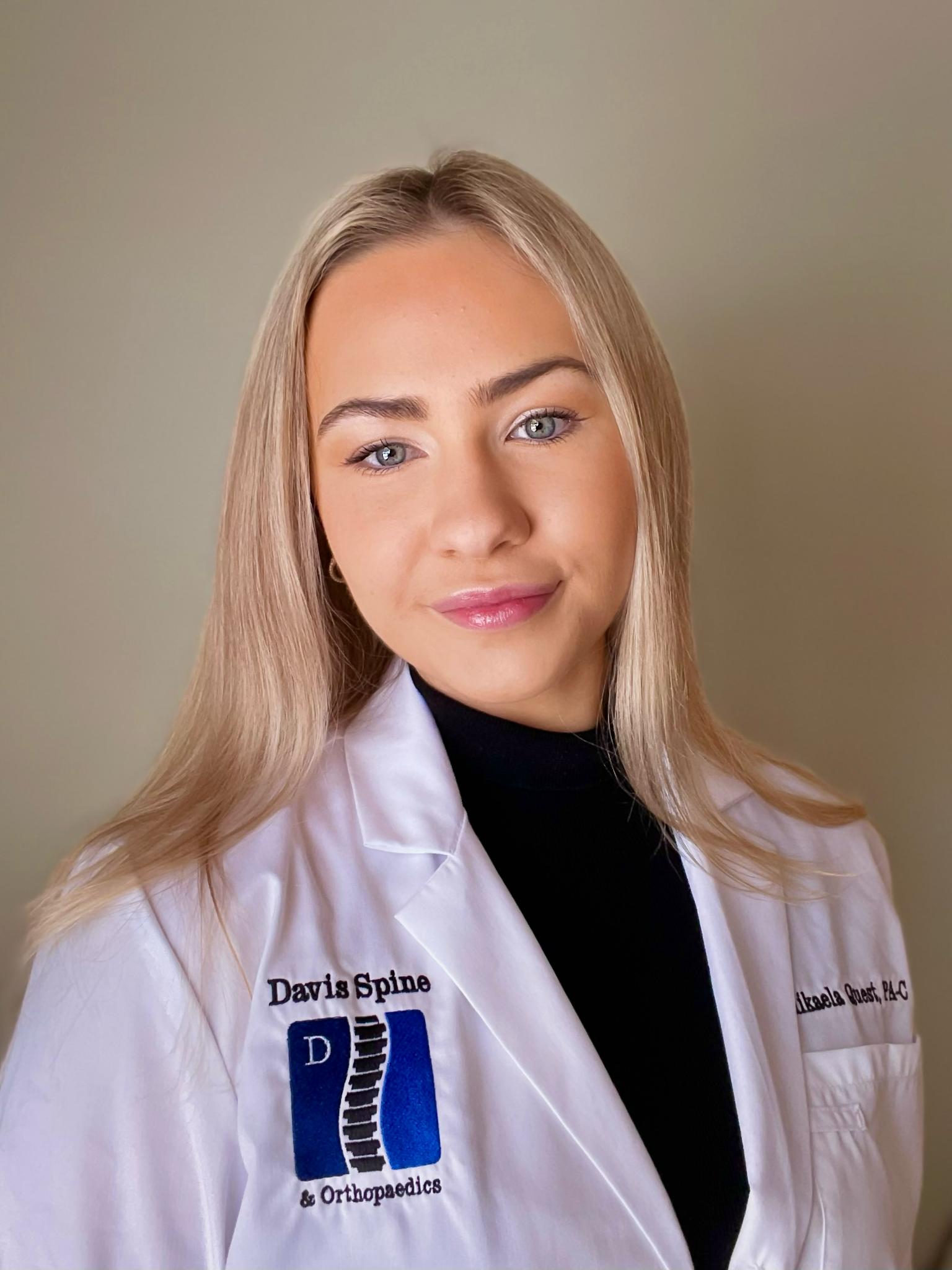 Shelby Tallon ⁠—

Chief Executive Officer
Shelby Tallon earned her bachelor's degree in Elementary Education. As soon after she finished college, she began working for Dr. Davis as his office manager, where she found her true calling. She joined Davis Spine & Orthopaedics in January 2012, where she held the responsibilities of being the Office Manager and Surgical Coordinator in addition to being a partner and office manager for Dr. Davis' Physical Therapy office. When she heard that the practice was relocating to Florida, Shelby did not hesitate to move as well so that she could continue to manage for Davis Spine. In her free time, Shelby is a huge animal advocate and loves her three cats, and also raises Monarch Caterpillars. She's a Pittsburgh Steelers fan and makes it back to Pittsburgh to see her family as often as she can.